My Wild Heart by Sara Barnes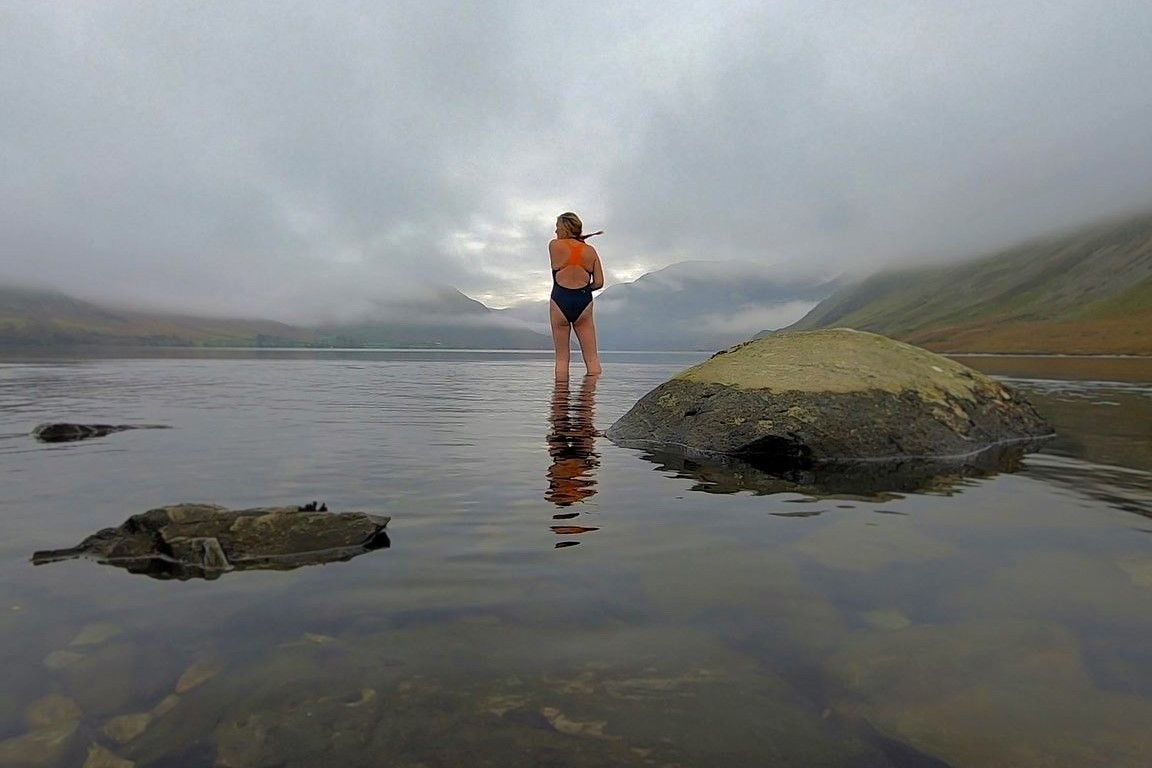 With her wild heart, joy in nature's bounty and watery worlds as well as her desire to dig deep into the dark roots of the soul, Sara is a kindred spirit. Her photos, commentaries and video clips of her experiences in the northern UK captivate me and move me to continue my own exploration of the wild heart, the wild beauty. Thank you, Sara, for this captivating, rich piece on the wild spirit that resides within us all, a hidden wilderness worth exploring and diving headlong into. Find Sara on Instagram as @bumblebarnes and dare to discover your own wild heart.
My Wild Heart
by Sara Barnes
Under the surface of everything lies a wilderness that is both frightening and captivating. When I take off my human trappings: clothes, hair bobble, hat, gloves, socks and modesty, my senses swarm out to play. In the bubbles of my river pools; in the deep, blue-green of my lake; even in the space-limited water of my cedar Japanese bath.
When the clamp around my head threatens to squash all imagination and colour into a beige, curated mush, the wilderness draws me away. It calls out to my wild heart and says "Don't be afraid to be different. Grab hold of what makes you laugh out loud with joy. Dare to allow yourself to feel".

Each time, before I go to the water, I pause and try to understand what it is I need from my swimming hole that day; what will release my wild heart from its cage. What is my colour today? Do I see my immediate world in grey, blue, rose or cream? Is the view beyond the horizon green?

If the answer is grey I go to the misty, calmness of Crummock, seeking a watery stroke and embrace, a hand to guide me out into the cold.

The oxygenated bubbles of Whisky Pool intensify rose-thoughts and desires, transforming my physical, intimate self into a water goddess: skin taut, nipples erect and pheromones ripe for consuming, but there is no one there to be close with.
Myriad blue hues of the Spirit Pool, so deep and mysterious, only release its treasures to she who seeks; pure celebration of intellectual nodes, stimulation of thoughts and creation of words.
But I have to dare to.
Take this wild heart of mine, rip it out, feed it to the self appointed judges wedged into their smug lives. And when they have belly ache from its richness and want no more, give it back to me. I'll take it to Dead Sheep Beach, my place of ghosts, and help it to heal by bathing gently under cuckoo-filled skies, lamb-soft clouds and deep-down lake life.

The only person who can stop my wild heart is me. No one else has the right.
Dare to peek under the surface just once in case what you see delights you. Listen to how fast your heart beats, feel the blood flowing from one tip of you to the other, smell the freedom in the water. And then dive down, go under the surface entirely and completely. And open your eyes.

Photo Credits: All photos taken by Sara Barnes
Stay Informed
When you subscribe to the blog, we will send you an e-mail when there are new updates on the site so you wouldn't miss them.
Comments
No comments made yet. Be the first to submit a comment