A Gift from the Sea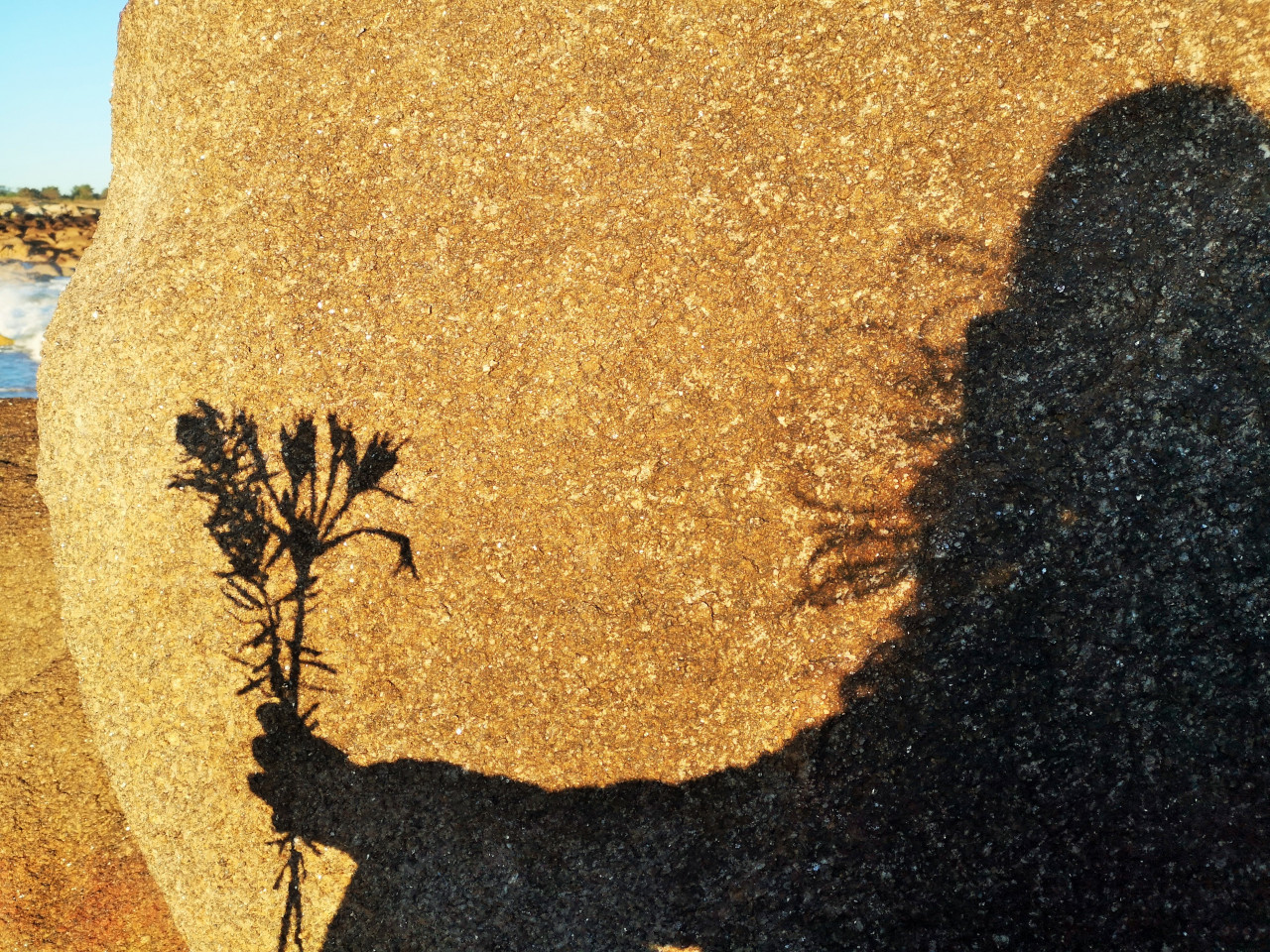 Despite being July, a stiff, cool breeze greeted me as I set out for the sea. A few high clouds sat in the eastern sky, the sun yet to rise, the long familiar ridge now a knife-cut silhouette. Bird song filled the air, gulls flew high in the sky and small black birds looked for snails and slugs along the pathway as usual hopping down the path in front of me. Fennel, now much taller than I, wild oats, yarrow, Queen Anne's lace all gently waved in the breeze, the roar of the sea ever louder as I approached the dunes.
A bit of melancholy accompanied me on my walk to the shore. Even though I was surrounded by the uplifting natural scenery and felt deeply connected and peaceful in the intense beauty that surrounded me, I find that sometimes I get caught up in my own thoughts and life situations. Thus I was pleased when I reached the cove and went to sit down at my "changing rock" and found the branch of daphne and the lily carelessly left there by someone the afternoon before.
I sat down to change and picked up the daphne and lily, contemplating them and their now faded beauty. They lifted me out of my thoughts as I wondered who might have plucked them from the dune. Was it the same person who also stacked up some beach rocks on the nearby boulder? A child playing in the afternoon glow? Then I looked right and I saw my shadow holding the flowers, a simple, lovely bouquet in silhouette. Seeing my reflection stopped me. It became a beautiful gift from an unknown, unintentional, unsuspecting giver. It was one of those moments when you feel a little less alone and a little more grateful for the simple pleasures.
I thought of Anne Morrow Lindbergh's wise book, Gift from the Sea, that I have often turned to for inspiration and reflection. One of her many powerful thoughts that I was reminded of was:
The sea does not reward those who are too anxious, too greedy, or too impatient. To dig for treasures shows not only impatience and greed, but lack of faith. Patience, patience, patience, is what the sea teaches. Patience and faith. One should lie empty, open, choiceless as a beach - waiting for a gift from the sea.
And there it was, a gift from the sea, wilted flowers on the rock became a silhouette bouquet and put a smile on my face.
Stay Informed
When you subscribe to the blog, we will send you an e-mail when there are new updates on the site so you wouldn't miss them.
Comments
No comments made yet. Be the first to submit a comment