Merging with the Water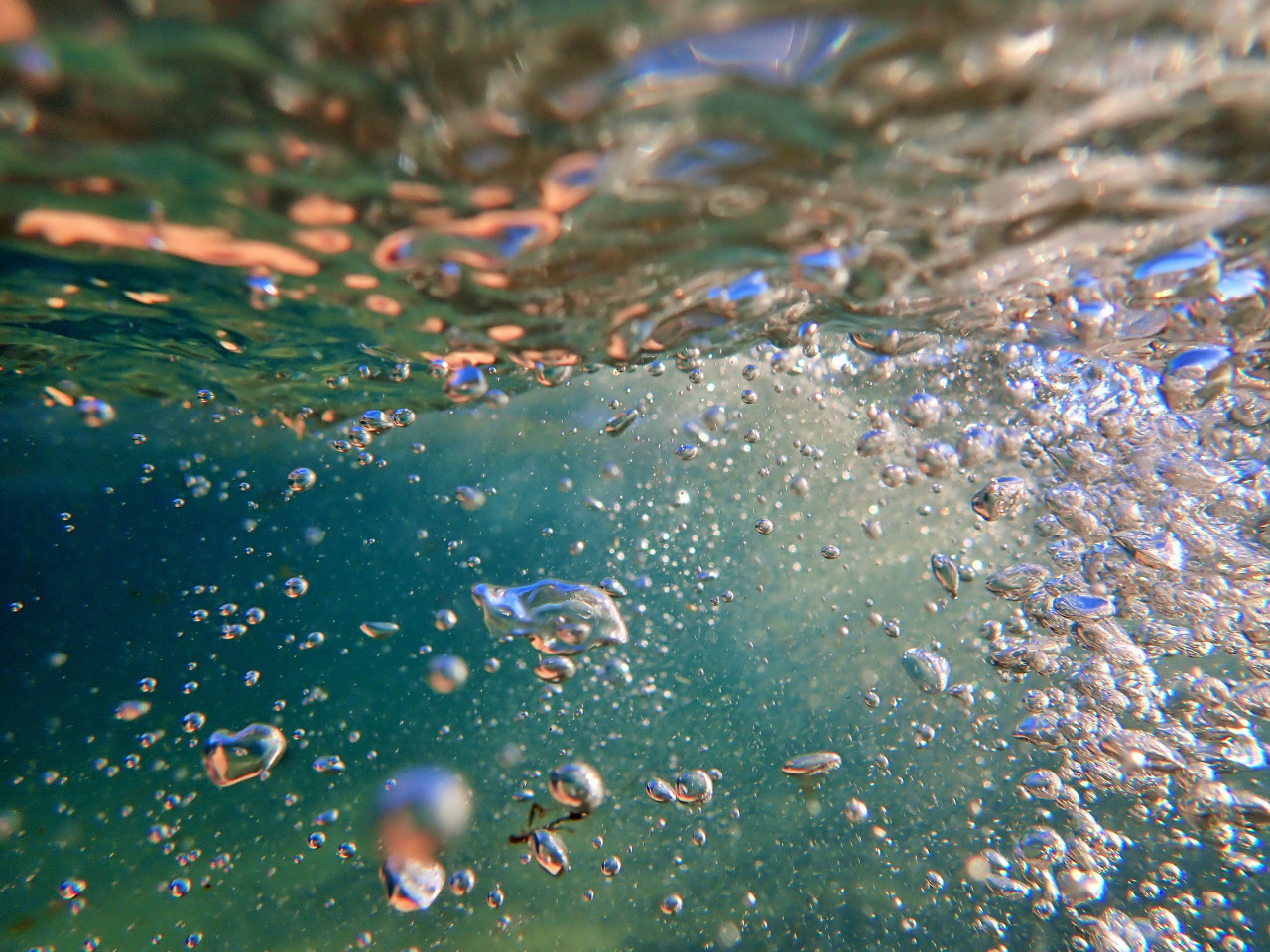 Bubbles captured at sunrise amidst the liquid aqua as I float and feel myself adrift in the sea's power. That's my desire; to merge with the aqua atoms and feel myself enveloped in the substance invisible to the naked eye. I like how this camera (Olympus T3) allows me to slow down the rushing movement that I somehow instinctively feel when my body merges with the liquid medium of the ocean. I see reflections in the bubbles, the layers of complexity, the intense beauty, the light, the movement of the diaphanous material I float and surrender in.
Often in my life, when I have felt very down, my wish has been to go down to the sea and dissolve into a million water atoms and merge with the infinite beauty and power that the ocean evokes in me. It comforts me to think of becoming part of these atoms and washing up on shore, floating within the kelp, riding the waves and troughs, becoming spindrift and rising into the air briefly in the wind, catching the sun's light and drifting back down again into the great healing mass of infinite energy, depth, complexity and generativity that is the ocean.
I love this image of the bubbles of different sizes, the reflections, the bits of kelp, the amazing patterns and reflections, the depth and complexity. It's liquid aqua scattered with diamonds. I suppose it represents how I feel inside. Every day I do the same thing, go to the same place and yet there is an infinite variation possible and it always feels different. Perhaps this time I could become a bubble that washes onto shore, flows over the sand and rocks and then dissolves into a water droplet once again. I would then become absorbed into the sand, passing and nourishing a sand flea on the way down, and then sucked back in again through osmosis and gravity to the larger mass of water atoms to be reinvented, recreated, reborn over and over again.
In the video I try to capture the intense sensations of being in the water, floating on the surface, where you can feel and see the atoms breaking into bubbles, the changes in color, the amalgam of materials floating in the water, the unpredictability of the waves, the wind.... I then allow the surge take me to the shore and crash over me, laying flat as the salty, sandy, kelp-filled nutrient water pours over me and then washes away and returns again and again. I feel a great sense of presence and being in those moments - it's just the waves, watching the surge and going with the flow, literally. Happy swimming.
Stay Informed
When you subscribe to the blog, we will send you an e-mail when there are new updates on the site so you wouldn't miss them.
Comments
No comments made yet. Be the first to submit a comment